The International Jazz Day Peterborough Committee presents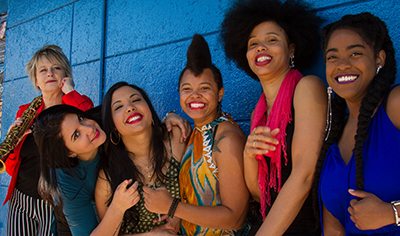 Sunday April 28, 2019 - 8:00 PM
Jane Bunnett & Maqueque

Five-time Juno Award winner, Jane Bunnett has turned her bands and recordings into showcases for the finest musical talent from Canada, the US, and Cuba. She has been nominated for three Grammy Awards, received The Order of Canada, The Queen's Diamond Jubilee Medal, and, most recently, The Premier's Award for Excellence.

With Maqueque, Bunnett has created something new and phenomenal in the world of jazz. What started out five years ago as a project to record and mentor young brilliant Cuban female musicians, has become one of the top groups on the North American jazz scene. In the last year, they have played in major jazz festivals like Newport and Monterey, been featured on NPR's program Jazz Night in America, were nominated for a Grammy Award for their newest release, Oddara, and, most recently, were voted as one the top ten jazz groups by the prestigious DownBeat magazine's critics poll. International Jazz Day Peterborough is thrilled to present this exceptional act fresh off their European Tour! This promises to be one of this year's most energetic, unique and unforgettable performances!
http://www.janebunnett.com/maqueque/

- Cabaret Table Seats are ASSIGNED
- GENERAL ADMISSION section includes row seating & balconies

Regular: $32 incl fees
Student: $23 incl fees