The Traveling Milburys present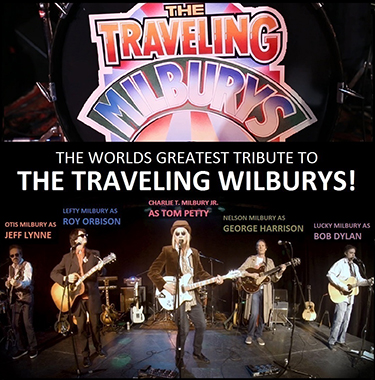 Friday November 29, 2019 – 8:00 PM
The World's Greatest Tribute To The Traveling Wilburys!
George Harrison, Tom Petty, Roy Orbison, Jeff Lynne and Bob Dylan, aka The Traveling Wilburys. There's never been a group, let alone super group, in rock history quite like it. They created two mega albums and launched a slew of hits in the late 80s and early 90s, capped with a Grammy win in 1989. But one thing they didn't do, much to the chagrin of their world-wide fan base, is tour. That is…until now…
The Traveling Milburys
capture the sheer talent, excitement and magic of The Traveling Wilburys for all to see and experience. Live. On stage. In Peterborough. From the opening chords to the final encores of this energy-packed and hit-filled evening, you'll know why this is, without a doubt,
the world's greatest tribute to The Traveling Wilburys
.
"Close your eyes and it's like you're listening to a Wilburys albums. But then you open your eyes, and it's like they're really there – playing right in front of you…"
John Terrid, Toronto Star
"A roaring, eerily authentic tribute to The Traveling Wilburys, right down to the Rickenbacker, Gretsch and Gibson guitars."
Chris Day, Ottawa Citizen
"I've got goosebumps on my goosebumps…"
Henry Hainsworth, Hamilton Spectator
www.travelingmilburys.com
ASSIGNED SEATINGRegular: $35 incl fees