Shared Dreams for Independent Living presents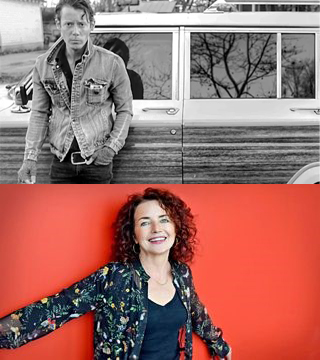 Saturday November 16, 2019 - 8:00 PM
Home Is Where The Music Is featuring Rick Brantley & Tia Sillers
RICK BRANTLEY


Rick Brantley was born and raised in the musical mecca of Macon, Georgia, a preacher's son, soaking up the strains of gospel music, fire-and-brimstone sermons and the echoes of musical legends: Blind Willie McTell, Otis Redding, The Allman Brothers. "My Dad dug the local heroes, and was big on pop/rock hitmakers of the 70's, too, like Three Dog Night. We had a little home recording studio; music was such a part of everything", Rick says. He was also inspired by singer-songwriters like Bruce Springsteen and Billy Joel. "You learn from those guys and they lead you to Kristofferson, Guy Clark, Townes Van Zandt," he adds. Brantley learned his lessons well: barely out of high school, his own songs and red-hot band performances led to a publishing contract and new home base in Nashville. Since then, his songs have been covered by artists ranging from Meat Loaf to country crooner David Nail, while he's continued honing his stage chops as both full-tilt rock-show frontman and acoustic solo performer, opening for acts as diverse as John Hiatt, Zac Brown Band, Better Than Ezra, and Steve Earle.
TIA SILLERS
Tia Sillers is a Grammy Award-winning songwriter. She has written over 40 singles in multiple music formats, including the Lee Ann Womack single "I Hope You Dance", and the Kenny Wayne Shepherd single "Blue on Black"
Tia's landmark song "I Hope You Dance", initially recorded by Lee Ann Womack, struck an emotional chord with listeners and received national exposure on Oprah and through articles in Newsweek and the New York Times. It was even performed at the Nobel Prize awards ceremony and eventually went on to win every conceivable award including the Grammy, CMA, ACM, NSAI, ASCAP, and BMI Song of the Year.
Crossing genres, Tia has achieved success with a variety of artists including established rocker Kenny Wayne Shepherd, with whom she has written multiple hits, including the top five songs "Last Goodbye", "Was" and the #1 smash "Blue On Black", which not only held the top spot on the rock charts for seventeen weeks but was also the 1998 Billboard Rock Song of the Year. Tia was nominated for ten Canadian CMA awards in 2009 for her work with Canadian artistsJohnny Reid, Crystal Shawanda, and Victoria Banks. Other artists who have recorded Tia's songs include Martina McBride, Randy Travis, Trace Adkins, Trisha Yearwood, Diamond Rio, Wynonna, Patty Loveless, and Sister Hazel.
All proceeds to
Shared Dreams For Independent Living
.
ASSIGNED SEATINGRegular: $33 incl fees