The Anchor's Up Tour Presented by Market Hall PAC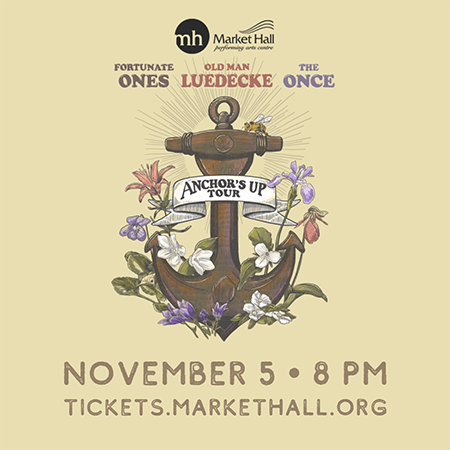 Saturday, November 5 • 8 PM

The 'Anchor's Up Tour' will feature individual sets of music from three of Atlantic Canada's most celebrated folk acts as they bring their songs and stories across the country.

Fortunate Ones is a JUNO-nominated contemporary folk duo from Newfoundland. With lush harmonies rising out of warm acoustic sounds, their latest album, That Was You and Me (2022), finds Fortunate Ones reflecting on life, loss, and hard times, and ultimately choosing love.

Old Man Luedecke is the recording and performing name of two-time JUNO award-winning songwriter Chris Luedecke. Known for his high energy banjo driven stompers, touching guitar ballads and dry humorous stories, Luedecke has been successfully exporting his brand of high and lowbrow roots for fifteen years.

The Once deliver thoughtful and playful songs soaked with the poetic charm and sunny sadness of the JUNO Award-nominated trio's collective disposition. Well known for haunting interpretations of traditional music, The Once has bloomed a sound that represents their up-springing inner artistry while their roots dig ever deeper into their idolized island of Newfoundland.