Every Brilliant Thing by Duncan MacMillan & Jonny Donahoe Presented by New Stages Theatre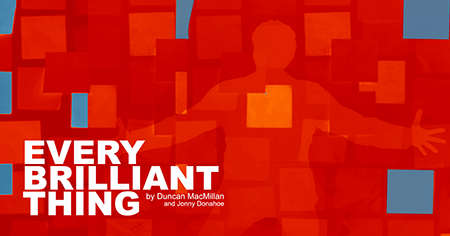 January 18 - 22
New Stages proudly presents the return of EVERY BRILLIANT THING, featuring Steve Ross, one of Canada's best actors.
EVERY BRILLIANT THING is a life-affirming story of holding onto hope in the face of crisis. After a sold-out run in Peterborough that closed just before the pandemic, EVERY BRILLIANT THING returns with its message of hope more poignant now than ever. With humour and warmth, Stratford actor Steve Ross is simply remarkable in the lead role, a man who reflects back on his family life, his encounters with depression, and how he's found a way to keep going in difficult times.
A perfect play for our times, EVERY BRILLIANT THING is a much-needed reminder of all the little things that make life worth living. Join us for a unique theatre experience!
Want to know more? Visit
www.newstages.ca
or like us on
Facebook
.
"Possibly the best thing I've seen in Peterborough. Intimate and soulful, powerful and perfectly cast." – Cam Taylor, Nerve Media
"Steve's performance truly is brilliant. Don't miss it!" – Susan Quinlan, Peterborough & Kawarthas Economic Development
"Filled to the brim with joy…beautiful, heart-wrenching, and very funny." —Time Out London
"Every Brilliant Thing is evidence, which we may need, that life matters, and that theatre matters." —Fuse
Trigger Warning: Contains themes of suicide. Recommended audience: 14+