Sex Dalmatian Presented by Public Energy Performing Arts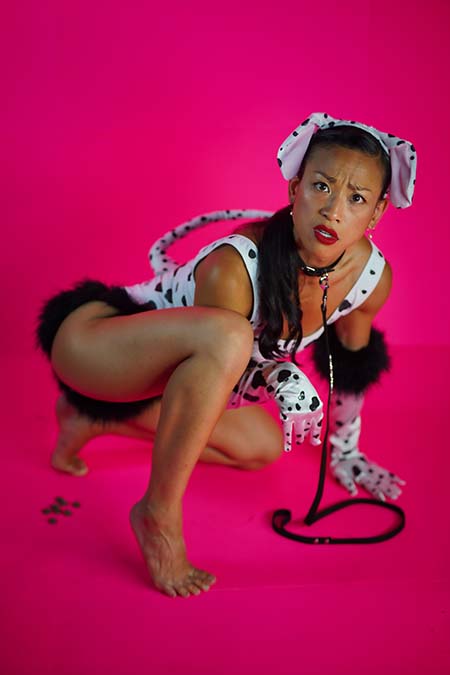 Friday, February 17 • 7:30 PM

Accessibility: Accessible venue and washrooms, audio assist system available for hard of hearing. To book an audio headset email admin@publicenergy.ca

Mature audiences

Photo Credit: Drew Berry
Tickets will be sold on a sliding PWYC scale from $5 to $25.

*Sliding scale pricing is offered to make our tickets accessible and affordable for everyone. All tickets are general admission.*

You can also reserve tickets by email or phone (no credit card required). Please email your request to admin@publicenergy.ca or call 705-745-1788.

Sex Dalmatian is an evening-length dance theatre glam drama. It follows a fiercely careerist anthropomorphized talking dog named Sex Dalmatian. Created by the award winning, critically acclaimed Toronto-based absurdist dance company Rock Bottom Movement, the show is built with a strong feminist perspective and a playful tone. Sex Dalmatian places heavy feelings into bizarre containers, shining a humorous light on some of the darker corners of the collective consciousness.

"Rock Bottom Movement and its artistic director, Alyssa Martin, are the quirky weirdos of Toronto's dance/theatre world that you can't help but be drawn toward." – Carly Maga, Toronto Star

"Martin's rich dissection of the female experience is vulnerable and resonant. Together with her collaborators, she is able to reclaim dreams." – Jillian Groening, The Dance Current

"a wonderfully weird breath of fresh air in the current theatre climate." – Brandon Lorimer, Art Critique

"The choreography is both clumsy and precise, raucous and contained, spastic and subtle- and filled to the brim with a wide-eyed fear that keeps you laughing and on-edge throughout the performance." – Brandon Lorimer, Art Critique

"Each performer holds such beauty and humour in every isolated moment of the play, and it is clear how much love went into this. The emotions of the characters are huge and serious, but the work is always playful and captivating." – Brandon Lorimer, Art Critique