Sin City Illusions Presents Magic and Mystery with Ken Margoe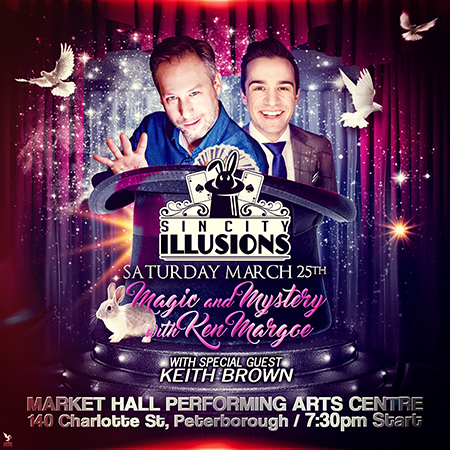 Saturday, March 25 • 7:30 PM

Come join us for a magical evening with two of Toronto's best magicians! This show is fun for all ages, and you'll be treated to incredible sleight of hand, mind boggling illusions, and a whole lot of laughter.

Your featured performers are:

Keith Brown: Keith is a world class magician who has sold out shows at Fringe festivals across Canada this past year.. He's performed in Argentina, Costa Rica, Peru, France, Italy, Belgium, Sweden, Norway, the Czech Republic, Switzerland, Holland, and Finland at large corporate events and sold out venues. He was voted Toronto's best magician in 2013, and won the People's Choice Award. We're VERY excited to see Keith perform, and you'll see why.

Ken Margoe: This guy catches bullets for a living! Ken was the headliner in the VIP room at Illusionarium, and holds the record for the most dangerous magic trick: 26 bullet catches in one day. He has performed for the New York Knicks, Woody Harrelson, 50cent,The Rolling Stones, Much Music, City TV, and many more. This is not a show that you want to miss.

See you there!