Time Warp Presented by The International Jazz Day Committee & Market Hall PAC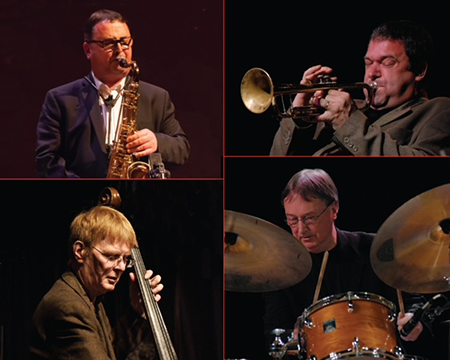 Sunday, April 30 • 2 PM

Al Henderson (bass)
Barry Elmes (drums)
Kevin Turcotte (trumpet)
Kelly Jefferson (saxophone)

Time Warp is an iconic quartet in Canadian jazz. Formed in 1980 by co-leaders
Elmes and Henderson as a vehicle for writing and performing original music, the
band became an 'underground' hit, releasing nine recordings since 1982
(garnering three Juno nominations), and led the way for many other Canadian
jazz groups, touring internationally and across Canada. Time Warp forged a
unique style and original repertoire, drawing on musical and cultural influences
from around the world, long before the term 'world music' was widely known.
Today, while still firmly rooted in the long tradition of improvised jazz music and
the blues, the band's vast repertoire has grown to include original compositions
influenced by the rhythms and harmonic structures of West African music,
Japanese koto music, Hungarian folk songs, North American urban funk rhythms,
New Orleans parade music and more.
In 2011, the United Nations Educational, Scientific, and Cultural Organization (UNESCO) officially designated April 30th as International Jazz Day to highlight jazz and its role in uniting people and communities across the globe. The goal of International Jazz Day Peterborough is to bring together our community, local businesses and jazz enthusiasts so that people can enjoy the diversity of the genre today! Our local celebration (in its sixth year) is one of hundreds of celebrations around the world:
https://jazzday.com/events/
QUOTES
"Is there a better band in this part of the world...? I doubt it."
Geoff Chapman, Toronto Star
"Simply put, they're a quartet that hangs together on arresting, original music like
few other jazz groups..."
Roger Levesque, Edmonton Journal
"...the most potent band in Canada."
James Hale, Ottawa Citizen

"...Time Warp's jazz is as rewarding as any you'll hear in Canada and better than
most of what you'll hear anywhere...Time Warp delivers a level of drama and
energy most bands can't match..."
Paul Wells, The Montreal Gazette
"This is a serious jazz band with consistently high artistic standards that also
shows a highly developed sense of humour in its compositions."
John Reid, Calgary Sun