Public Energy Presents VÁSTÁDUS EANA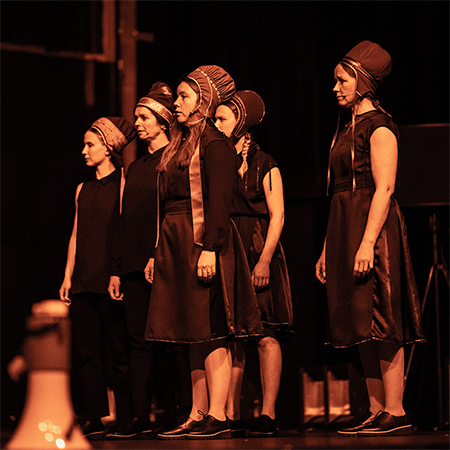 Sunday, March 3 • 2:00 PM

Elle Sofe Sara (Norway)

Seven black-clad women, fists raised, brandish megaphones above their heads, in front of Esplanade Tranquille. They start dancing to ask the land for permission to gather on it. Then, walking with heads held high, they lead the audience into the depths of the theatre for Vástádus eana: a galvanizing choreographed concert that amplifies the long-repressed voices of the Sámi people.

Through their polyphonic chants and their movements, the performers draw us into an a cappella story of resistance and healing. Their voices are rooted in joik, the captivating Sámi music sung while travelling across the land. Embodying memory, they celebrate the alliances between all living creatures and the land, between nature and the community. Inspired by socio-ecological movements and Sámi spirituality, this hymn pays tribute to all those who fight injustice.