Stand Up Comedy: Andrew Packer & Marc Anthony Sinagoga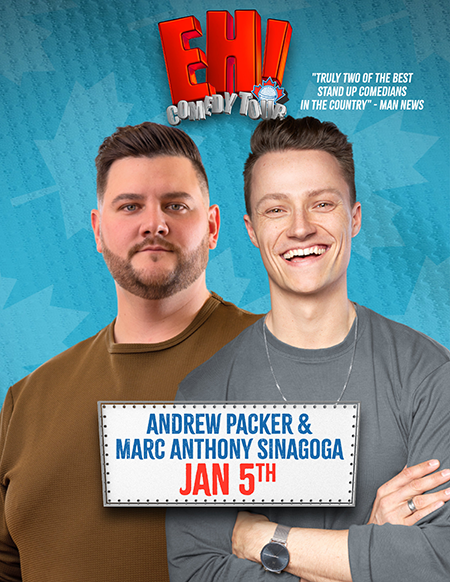 Friday, January 5 • 8 PM

PRESENTED BY EH! COMEDY TOUR

This is the show for you if you're looking for a night of laughter and to see our country's best talent during the breakout year of their careers!

Andrew Packer is a Canadian stand up comedian known for his observational humor & quick-witted crowd work. Andrew has toured in over 15 countries and amassed over 4M followers across TikTok, Instagram and Youtube. He has performed at JFL Toronto, JFL Vancouver and the world famous Edinburgh International Fringe Festival. Andrew was a finalist in the 40th Annual Seattle International Comedy Competition and winner of "Best Overall Performance" at the Cleveland Comedy Festival. You may recognize Andrew as the Lead Anchor/Creator of MAN NEWS (@andpacker), a satirical news network that has over a billion views worldwide.

Marc-Anthony Sinagoga (@notmarcanthony) is also a nationally touring headliner in Canada, you may recognize him from his Doug Ford impression or his numerous viral videos playing his 'Nonno', and many other hilarious characters.

+Special Guest Act

ADVANCE TICKETS STRONGLY RECOMMENDED. WALK-UP TICKETS ARE NOT GUARANTEED TO BE AVAILABLE FOR THIS EVENT.