Against The Wind: The Ulitmate Bob Seger Experience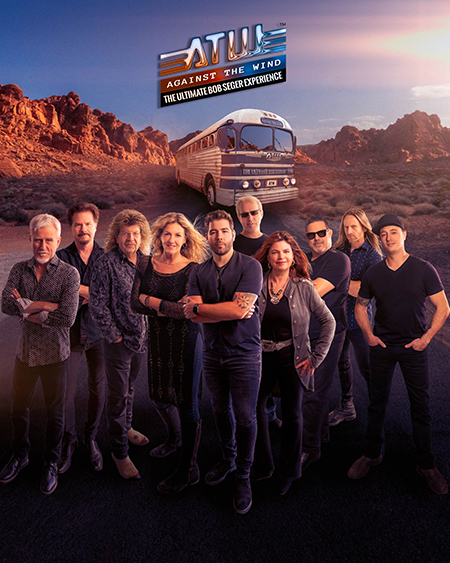 Saturday, February 24 • 7:30 PM

Internationally acclaimed, Against The Wind is a kick-ass Bob Seger Tribute. Founded in 2013, by drummer Jeffrey Dean Goldstein, fronted by award winning singer-songwriter, Ty Wilson, and enhanced by a stellar 11 piece dynamic all-star rock and roll band comprised of seasoned players that deliver an authentic, infectiously enthusiastic and historically inspired replica, portraying one of rock's most iconic artists, Bob Seger. If you are looking for a sentimental and emotional musical adventure, look no further than ATW. Their ultra-professional ride down memory lane will inspire and put you in the rock n roll frame of mind, spreading the Seger fever to sold-out audiences.

Each performance is injected with inspirational fuel that fully immerses old and new fans, taking you inside the Bob Seger cultural landscape, celebrating a backdrop of timeless memories while directing the audience on a participated sing-a-long journey, bringing music lovers to their feet, dancing in the aisles as they remember that Rock and Roll Never Forgets. Just take those old records off the shelf as you engage in Old Time Rock n Roll, after all, We've Got Tonight, as the Night Moves, and they Let It Rock. You'll Accompany Me to Nutbush City to Hollywood Nights even when we Get Out of Denver, Shining Brightly in Katmandu. Yet we're Still The Same, a Traveling Man, a Ramblin Gamblin Man down on Main Street, as we watch Her Strut. Getting to Turn The Page Against The Wind at a festival, theatre, casino in a city nearest you.