Harmony for Healing - Spirit in the Sky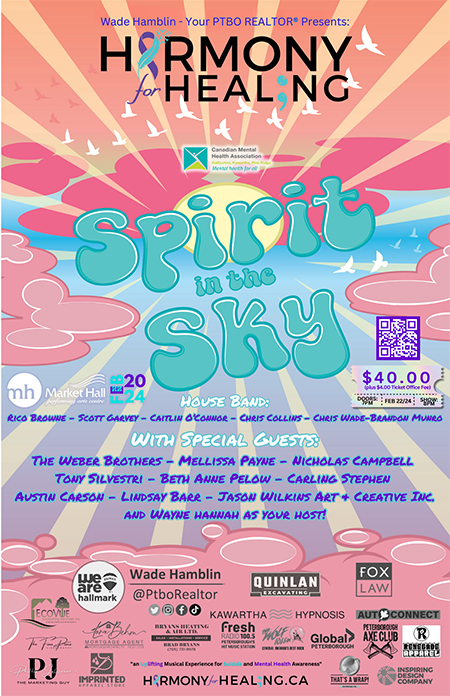 Thursday, February 22 • 8 PM
Wade Hamblin - Your PTBO REALTOR®️ Proudly Presents: "Harmony for Healing", a musical extravaganza dedicated to showcasing the incredible talent right here in Peterborough. This annual affair brings to the limelight our principal Harmony for Healing House Band, and we're thrilled to announce special performances by The Weber Brothers, Melissa Payne, Nicholas Campbell, Austin Carson, Carling Campbell, Beth Anne Pelow on Sax, Tony Silvestri, Lindsay Barr and the unparalleled artistry of Jason Wilkins Art & Creative Inc. Elevating our lineup further, our evening will be orchestrated seamlessly by our dynamic emcee, Wayne Hannah.
This year, immerse yourself in the vibes of the 1960s with our "Spirit in the Sky" theme. Beyond the entertainment, we're unified in a heartfelt commitment to mental health and suicide prevention. Our ambitious goal is to rally support and raise $10k annually, targeting a sum of $50k over five years, all channeled towards the impactful A.O.S.P. program. With every year ringing in a new musical era, you'll want to make this a regular date on your calendar.
Together, let's celebrate music's transformative power and drive change for the better.
For more details on the event, please visit:
www.harmonyforhealing.ca
A massive shoutout to our incredible sponsors for making this possible:
Presenting Sponsor: Wade Hamblin - Your PTBO REALTOR®
Silver Sponsors: Quinlan Excavating and FOX LAW
Bronze Sponsors: EcoVue Consulting Services Inc., Lora Behm Mortgage Agent, Kawartha Hypnosis, Bryans Heating & Air, Auto Connect, and Peterborough Axe Club.