Choir!Choir!Choir! Presented by Market Hall PAC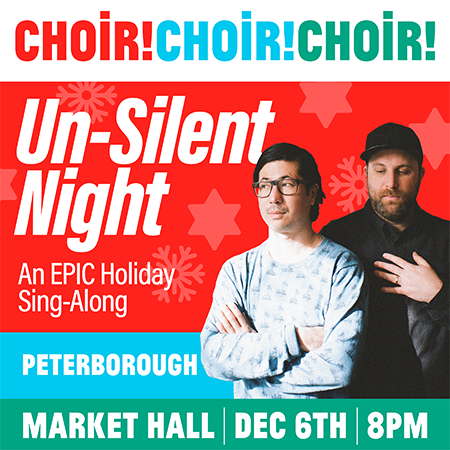 Wednesday, December 6 • 8 PM


Peterborough!
HO! HO! HO!

We are finally coming back Dec 6th
for a very special holiday event!

Choir! Choir! Choir! presents..
"Un-Silent Night"
An EPIC Holiday Sing-Along!

That's right!
Our EPIC Holiday Sing-Along is coming
Dec 6 to Peterborough + WE CAN'T WAIT!

What could be better + more fitting than two
nice jewish boys leading you all through some of
the greatest songs of all time to ring in the holidays?
NOTHING, that's what!

It's gonna be so, so fun,
So get your tix NOW!

It's all going down at Market Hall,
so you know it's gonna be a beauty!

C! you all on Dec 6th in your ugliest holiday sweaters
for the ultimate Holiday Sing-Along throw down!